Description
Soliton 100M VDSL2 Ethernet Extender features 100Mbps of symmetric data rate over the existing copper wires. It also supports both symmetric and asymmetric transmission, and can reach up to 100/100 Mbps bandwidth (line rate) within 300M or 10/10 Mbps (line rate) for 1 Km long range connections.
The 100M VDSL2 Ethernet Extender also supports selectable CPE and CO mode. By selecting operation modes: one with CO mode and the other with CPE mode, users can connect two 100M VDSL2 Ethernet Extenders to establish a point-to-point connection.
With its high performance and plug-n-play design, 100M VDSL2 Ethernet Extender is the ideal Long Reach Ethernet solution for ISPs and carriers to quickly deploy a high-speed IP-based network for triple play (video, voice and data) services.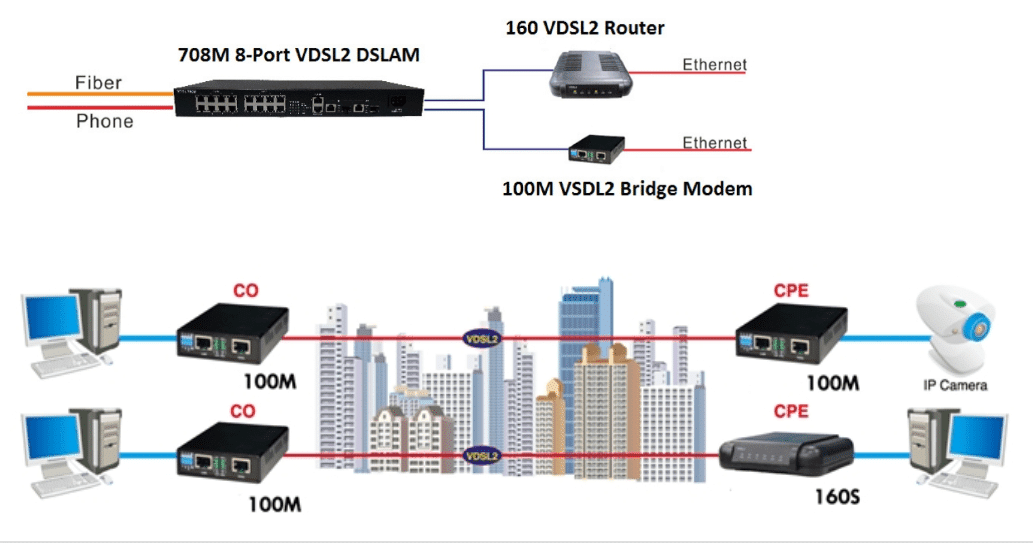 4-position DIP Switch
Regulatory Compliance

Selectable CO or CPE mode
Selectable 30a or 17a (VDSL2 Profile)
Selectable Band plan (Symmetric or Asymmetric)
Selectable target SNR margin (6dB or 9dB)

CE
FCC Part 15 Class B
EN60950

LED
Power supply

LAN: ACT/LNK,10/100Mpbs, Half/Full Duplex
VDSL: Power On/Off, CO/CPE, Idle/Trained/Link

DC single 12 Volt over 3.5mm DC jack; 4.2 Watt maximum.

LAN Interface
Physical / Electrical

RJ-45 connector
Complying with IEEE 802.3/802.3u/802.3x
10/100 Base-T Auto-Negotiation, Auto-MDI/MDI-X

Dimension: 72.5 mm x 23 mm x 94.5 mm

VDSL Interface
Operating Environment

RJ-45 connector
DMT Encoding
Complying with ITU-T G993.1/993.2/G.997.1
On-board surge protection

Operating Temperature: 0°C ~45°C
Humidity: 0%~95%RH (non-condensing)
Performance
(AWG24 Wire)
17a Profile (Downstream/ Upstream)
30a Profile (Downstream/ Upstream)
300M
100/72 Mbps
300M
100/100 Mbps
600M
42/46 Mbps
600M
40/45 Mbps
800M
32/28 Mbps
900M
22/19 Mbps
1000M
18/13 Mbps
1200M
16/7 Mbps
1200M
16/7 Mbps
1500M
12/3 Mbps
1500M
12/3 Mbps
1800M
8/2 Mbps
1800M
9/2 Mbps
2100M
5/2 Mbps
2000M
5/2 Mbps
* The above performance data is for reference only, the actual data rate may vary depending on the quality of the copper wire and environmental factors.